Michael Irvin Covers The August 2011 Issue Of "OUT" Magazine, Taking A Stand For His Late Gay Brother And Equality
Jul 12 | by _YBF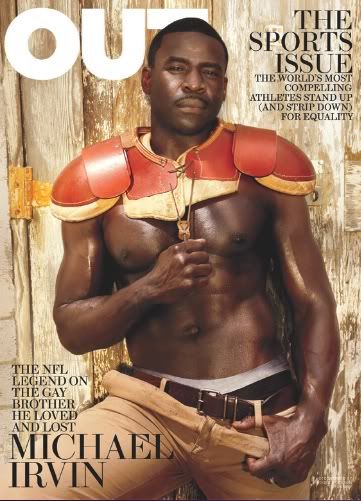 In a very open and honest interview for the August 2011 issue of OUT Magazine, NFL Hall of Famer Michael Irvin talks about his beloved gay brother, equality and acceptance, and why he is on a mission to end homophobia.
Check out his pics for the issue and what he had to say inside...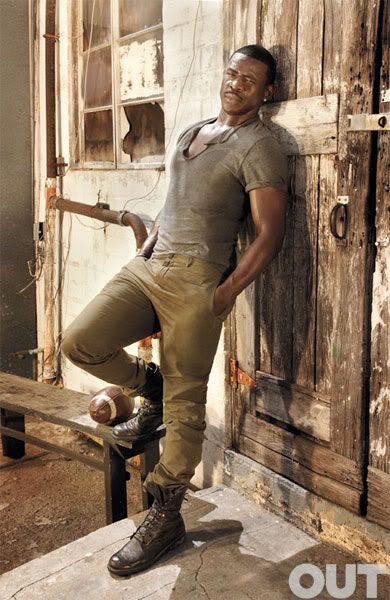 In the August 2011 issue of OUT Magazine, a small group of straight sports stars who have stood up for fairness and tolerance of their LGBT peers are profiled. One of the outspoken stars in the issue is former Dallas Cowboys player Michael Irvin.
Michael Irvin is an interesting character. He was voted one of the best football players of all time and he fits all of the macho stereotypes associated with the sport. He was a cocky womanizer who regularly got into trouble with the law, drugs, coaches and other players. But now as a retired athlete and popular sportscaster, Michael has looked back on his past actions and determined many of his antics stemmed from his childhood relationship with his gay brother.
In the article he tells a story about coming home one day with his father and seeing his older bro, Vaughn, leaving the house in women's clothing. Though the family knew Vaughn was gay, Michael says they never spoke of it.
He later determined in therapy that many of his cocky mannerisms and womanizing ways were in response to his brother Vaughn. He felt like he was repelling that gay vibe by sleeping with lots of women and being hypermasculine.
"I'm not gay, but I was afraid to even let anyone have the thought. I can only imagine the agony—being a prisoner in your own mind -- for someone who wants to come out. If I'm not gay and I am afraid to mention it, I can only imagine what an athlete must be going through if he is gay."

That's why Michael says he would be supportive of any major athlete who came out of the closet.
"If anyone comes out in those top four major sports, I will absolutely support him," says Irvin. "That's why I do my radio show every day. When these issues come out, I want to have a voice to speak about them. I think growth comes when we share. Until we do that, we're going to be stuck in the Dark Ages about a lot of things. When a guy steps up and says, 'This is who I am,' I guarantee you I'll give him 100% support."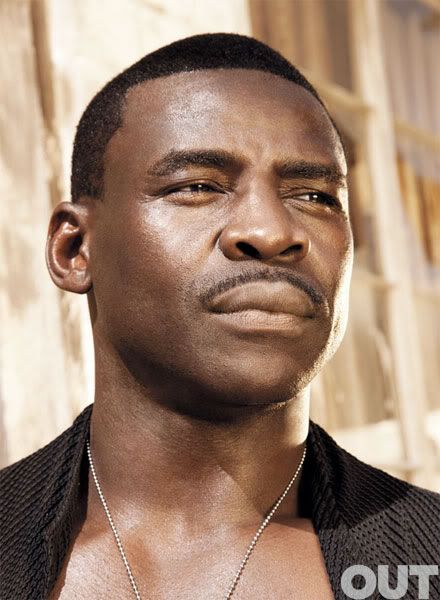 So what's behind Michael's new campaign for equality? He says he realized that after all his sports accolades are footnotes, he now wants to focus creating a better society.
"The last thing I want is to go to God and have him ask, 'What did you do?' And I talk about winning Super Bowls and national titles," Irvin says. "I didn't do anything to make it a better world before I left? That would be scary."
Now Michael is doing his part by offering a helping hand to the LGBT community. And with homophobia being so prevelant in Black communities, he hopes others with join in.
"I don't see how any African-American with any inkling of history can say that you don't have the right to live your life how you want to live your life. No one should be telling you who you should love, no one should be telling you who you should be spending the rest of your life with. When we start talking about equality and everybody being treated equally, I don't want to know an African-American who will say everybody doesn't deserve equality."
I think its great that Michael is bold enough to pose for the mag and talk about the homophobia in our community. Your thoughts?
Check out the full story over at Out.com.