"Basketball Wife" Meeka Claxton Addresses The Haters, Her Greasiness, Her Fight With Tami, & Her Messiness
Jun 22 | by Natasha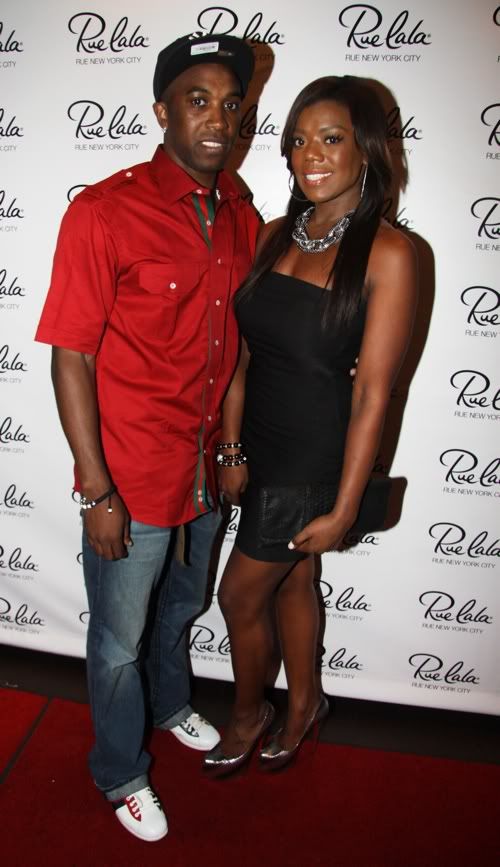 So new "Basketball Wife" Meeka Claxton called up Power 92 in Richmond to dish about how she's portrayed on this new season of "Basketball Wives." She dishes on the haters who call her Greasy Meeka, Tami allegedly punching her out, and if she's really as messy as she comes off on the show. Meeka also explains why she has issues with Royce and why the show may portray her as a Evelyn/Shaunie/Jennifer groupie, even though it's not the case.
Her full interview and the important highlights inside....
Meeka chatted with TT Torrez and made a point to say she's very secure as she knows she's a true "wife" and she got what she signed up for--the show portraying her as something she is not. She cleared up that she was not the one begging to come on the show like Shaunie said in recent interviews, their mutual friend Jackie Christie (who is starring in the upcoming "Basketball Wives LA" spinoff) Don King'd the deal. And she did this show to showcase how grounded a real basketball wife can be with family.
Oh, and she says her hubby of 5 years, Speedy (who she met in college 6 years ago), isn't pleased at all with the show and how she's being portrayed.
Highlights:
On rumors of her begging Shaunie to be on "Basketball Wives" Meeka said she didn't seek Shaunie out. A mutual friend of theirs named Jackie actually reached out to Shaunie because she felt that Meeka would be a good addition to the show. Meeka said she was hesitant at first but wanted to show the life of a real basketball wife.

On how the show has portrayed her so far: Meeka said she's not mad about it. She hopes the show will show more of her family and her running her business.

On coming off as a "Shaunie-Evelyn-Jennifer groupie": She said she's not offended when someone asks her about being their groupie. She said that they were just as excited to meet her as well. She set the record straight saying, "definitely ain't no groupie status here."

On Evelyn and Shaunie saying she talks too much: She said she doesn't pay attention to all of that because she knows that they were talking too and she knows a lot about them too. She said at first it bothered her but now it doesn't saying, "I can't even be mad at that. I signed up for it. "

On how she handles all the drama stemming from "Basketball Wives": She said she's so secure that it doesn't faze her, "to know me is to love me."

On people nicknaming her "Greasy Meeka": She responded, "It's HOT as hell out there in Miami and they have us drinking like sailors so that's the sailor in me I guess coming out, sweating like crazy. I just definitely know who I am…[I'm a] little too secure for all of that so I laugh at them when I think that they think that I'm bothered by it. It's like…let them hate, I really don't care. I know who I am and I know what it is. I'm the one that's here that's the basketball wife."

On the rumor of Tami punching her in the face in Rome: "Rumors are rumors and they are always going to be there," she said. She can't give anything away but said we will have to watch the show because this season is an explosive season. She said if something like that did happen, that's NOT her style and that she's a classy chick.

**Meeka then admits that Tami DID NOT punch her in the face!

On how important it is for her being in the "Shaunie-Evelyn-Jennifer" clique: Meeka said it might seem like she's worried about being in their circle, but she's really not. She said she's only concerned with her paper and her family. She said she was hesitant about meeting Royce because she's a dancer that crossed the line (referring to Royce's relationship with Dwight Howard).

On people calling her "Two-Faced Meeka": She said that's definitely not her. She said the girls are not always what they seem but she just has to remember who she is and be secure in that. She said if you think she's two faced then you really don't know her. She confessed after watching the show she can see why people would think that though.

On how her husband, Speedy Claxton, feels about her being on the show: Initially he thought it was great to show a happy basketball wife and husband raising two kids together. Now seeing the show he's a little pissed off because it didn't look the way he had imagined it.

On if he wants her to leave "Basketball Wives": She said she can't say but he's not happy and he wants her to fix that.

On if she and Speedy were to get a divorce: Meeka has her own business so if they were to split she said she would be fine.

On if she let her two daughters watch the show: At the beginning she admitted she did let them watch the show. She said they shot some good footage and she thought it was going to come out differently. She said she sent them out the room while watching the first episode and she will not let them watch it any longer. She said with them being so young (ages 2 & 7) that they are very impressionable and she doesn't want her children to see her in that light.
Sigh. That's about all I can do....