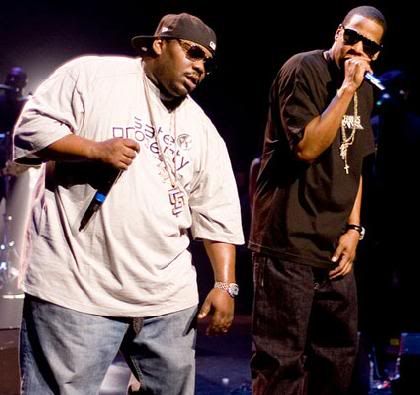 Though he had been making diss records and talking smack about Jay-Z for over a year and a half, Beanie Sigel has had a change of heart and tries to make amends by talking to XXLMag.com and apologizing to Jay-Z. Read it inside....
According to XXLMag.com, it all started in 2009 with the diss record "What You Talkin About (I Ain't Your Average Cat)" where Beanie Sigel aired out Hov and Memphis Bleek. Then, he proceeded to insult the two during nearly every show appearance and interview thereafter. Jay-Z responded saying he gave that man an opportunity, and if things didn't work out, essentially it's his own fault.
Explaining himself now, Beanie aka Dwight Grant says:
"I was explaining the whole Roc-A-Fella shit and a lot of feelings were going to get hurt. I was airing shit out. Just the homies could listen to that when they come into the studio. I couldn't put that out. It wouldn't sit right with me."
So now.....what's making Beanie stretch out the olive branch? Well it seems like he is reflecting on his life and mistakes and realizes that Hov actually did have his back. He exclusively told XXLMag.com,
"What Mike Epps say? 'Gangstas fuck up too.' Whatever I felt this dude Jay did wrong to me, it can't outweigh the one thing he did do for me – he gave me an opportunity. Dude gave me an opportunity. A lot of people don't get opportunities. He gave me that. That outweighs everything. I need that in black and white. I got caught in the moment and put my feelings out there. I should have never done that."
That seems like a deep moment of reflection. You can't hate on the very people who gave you a chance. I guess Beans is doing that whole "maturity" thing now.
SIDENOTE: Remember when Charlemagne da God supposedly got fired from his gig at 100.3 in Philly because of his interview with Beans where Beans aired Jigga out? Wonder what he has to say now....
The Randomness:
1. "Real Housewives of Atlanta" star Kim Zolciak has finally given birth to her baby boy in Atlanta.