SECRET SIBLINGS: Rihanna's Old Photos Reveal Secret Family Members
Apr 16 | by _YBF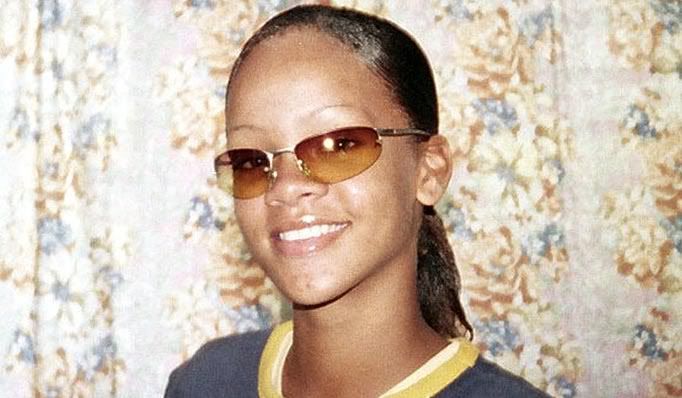 Some old family photos of pop star Rihanna have been posted and one thing is for sure...she was born a star. She radiates something "special" on each photo even as a kid. But the photos also reveal a "secret" side of the family that she rarely talks about....her father's OTHER kids. See the photos inside...
Old family photos that recently surfaced reveal that Rihanna has three older siblings through her father (by three different women). Rihanna's father, Ronald Fenty admits that he was a womanizer back in his heyday and it resulted in multiple births with multiple women.
Rihanna has an older sister named Kandy, 32, who literally showed up on Ronald's doorstep one day. Kandy says she showed up to the Fenty home and "I asked, 'Are you Mr Fenty?' When he said yes, I said, 'Hi I'm Kandy and I'm your daughter'." Ronald says after Kandy explained who her mother was, he welcomed her into his home. "I guess you could say I was shocked. But I was a bit on the wild side and something of a ladies' man back in my early days."
Rihanna's other secret siblings are Samantha, 30, and brother Jamie, 27. They were both born during different relationships before Ronald married Rihanna's mother Monica.
Samantha said she lost contact with Ronald when he left her mother and moved to Canada for work. After seven years, Ronald moved back to Barbados and Samantha began to look for him. By the time she found him, Rihanna was three years old. Samantha calls RiRi "mini me" because of their similar looks.
She says Rihanna has done a good job keeping in touch with both her and her older brother Jamie, who is a graphic artist. Samantha says they meet up with the singer whenever she returns home and she and Jamie have also become close to Rihanna's younger brothers Rorrey and Rajad.
So that means Ronald has six children by four women...SMH.
Rihanna at age 9.
This photo shows a 15-year-old Rihanna meeting her oldest sister Kandy for the first time.
Rihanna is also an aunt to Kandy's two daughters Brandy and Crystal. Rorrey and Rajad are also in this pic.

In this more recent pic at an awards show, RiRi poses with Samantha, her dad Ronald and her two little brothers.
And in this blast from the past RiRi is shown with papa Ronald, brother Rajad and her mom Monica.
Well...we ALL have family secrets and secret family members. At least most of us do. Mmhmmm. Good to see they all get along.