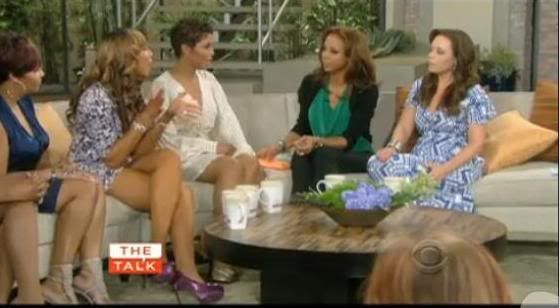 The Braxtons stopped by "The Talk" recently and they brought along a present for the women's panel....chitlins! Wrapped up in a fancy ziplock bag, watch the Braxtons brag about momma Evelyn's cooking inside and watch Bill Cosby take a swipe at Donald Trump ....
On another episode "The Talk" hosts taped previously, there was a discussion where Holly Robinson Peete said she did not like chitlins. But because Tamar Braxton was watching that show, she brought a little gift with her when teh Braxton sisters rolled to the talk show this week to do some promo.
Tama said that chitlins were dear to her heart. So she decided to pack some in a ziplock bag, then place them in a fancy silver gift bag, and present them to the panel.
She even told Sharon Osbourne that the chitlins smelled good because her mom pulled the membrane out!
Watch the hilarious video here:
Lawd! Chitlins on daytime tv. I can't!
And lately, we've come to expect Bill Cosby to say shocking things on camera so we often watch him with our ears open and eyes covered. He recently stopped by the "TODAY" Show to talk about educational disparities, but, in true Cosby fashion, ended the interview with a swipe at Donald Trump. Of course.
Watch Bill Cosby talk about The Donald at the end of this clip: