SNEAK PEAK: Rihanna's Gorgeous VOGUE Cover + Full VIDEO Of "Chelsea Lately" Appearance
Mar 11 | by Natasha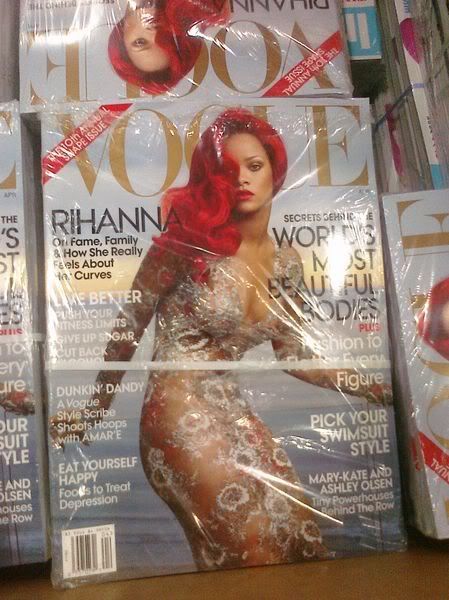 A sneak peek of Rihanna's April 2011 VOGUE cover just hit the net. The issue is still in the plastic wrap as it prepares to hit newsstands. Check out her seemingly mermaid influenced shot when you read on...
While this particular cover, shot by Annie Leibovitz, seems subdued for Rihanna, possibly it's the inside spread that will cause tongues to wag since the issue is all about sexy and beautiful bodies.
In the sneak peek, we see Rih with flowing red hair and a sheer nude embellished gown that gives a mermaid effect. Gorgeous.
Can't wait to see the cover in full. We feelin' it so far?
Plus, Rihanna's episode of "Chelsea Lately" aired last night that she taped earlier this week in Sydney, Australia. Peep the full vid of her and Chelsea kiki'ing it up.
NEWS:
1. Japan was hit with a record breaking 8.9 earthquake last night. And right now, Hawaii is being hit with Tsunamis because of it, and parts of Japan, Oregon, and California are facing Tsunami warnings as well. Our prayers go out to the victims. Story