SPORTS: Lawrence Taylor Can't Afford His Child Support Payments + Chris Paul Left Game On A Stretcher!
Mar 07 | by _YBF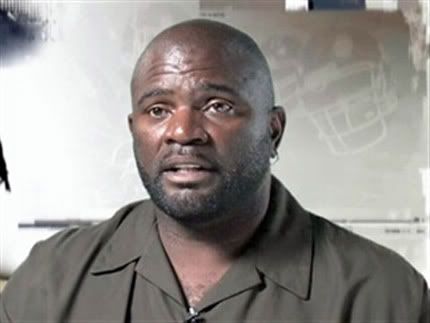 Since the public fallout from his arrest for having sex with an underage hooker, football legend and former "DWTS" contestant Lawrence Taylor says he can't afford $456 a week in child support for his ailing 13-year-old daughter. Deets inside...
In family court papers filed last week in New Jersey, ex-Giant Lawrence Taylor claims he cannot meet his child support obligations. Lawrence said in his filing that his ability to generate income was heavily impacted by his arrest last year.
"My income is generated solely by my popularity as a celebrity," he says in the Bergen County filing. "The fact that I last played in 1993 and legal problems in Rockland County . . . have severely diminished my ability to obtain income. "I have no college degree or special skills other than athletics."
Lawrence Taylor asked the court to lower his payments after Ebony Washington asked for higher payments for their daughter, Erielle, who was recently diagnosed with Crohn's disease. Sigh. I want to feel bad, but he brought this on himself with even putting himself in the situation to get caught up.
Maybe this could be a lesson--that I'm sure will go unheard--to these NFL and NBA fellas to DIVERSIFY their assets AS SOON AS those checks start coming in. Because trust, they stop sooner than you think.
In other sports news....
New Orleans Hornets baller Chris Paul was carried out of the Hornets' 96-81 victory over the Cleveland Cavaliers game, on a stretcher Sunday night. He was taken to the Cleveland Clinic, where tests showed that he had a concussion. The Huffington Post reports,
"Chris was injured with 4:36 remaining in the third quarter when he lost the ball driving into the lane as he was defended by Ramon Sessions and Samardo Samuels. When Paul tried to retrieve the ball, he hit his forehead on Sessions' right shoulder and immediately fell to the court. Paul stayed on the floor as trainers from both teams attended to him."
But all is well...Chris later rejoined the Hornets at the arena and accompanied them on their charter flight to Chicago. He will miss Monday's game. Y'all know my heart dropped when I hear my crush was hurt. Glad he's ok.

The Randomness:
1. Braylon Edwards tries to get DWI case tossed. Good luck with that. Story.
2. Ron Artest tumbles into the crowd and spills a fan's coffee. Dude stays causing trouble in the stands. LOL Story.