OUT & ABOUT: Jay-Z Hits The Nets Game+Jennifer Hudson Flaunts Her Figure For DISNEY & Dishes Wedding Details
Jan 20 | by Natasha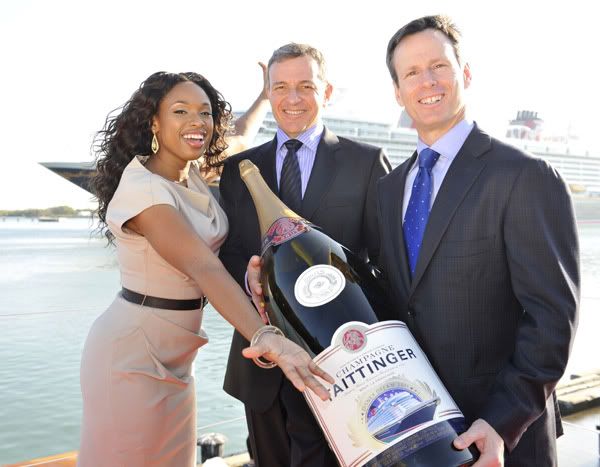 Jennifer Hudson rocked a cute nude dress and flats for the kick off celebration of Disney's huge new Disney Dream cruise ship yesterday in Orlando. We've got pics of her, her dishing about her upcoming wedding, and pics of Jay-Z chillin' at the Nets game, when you read on....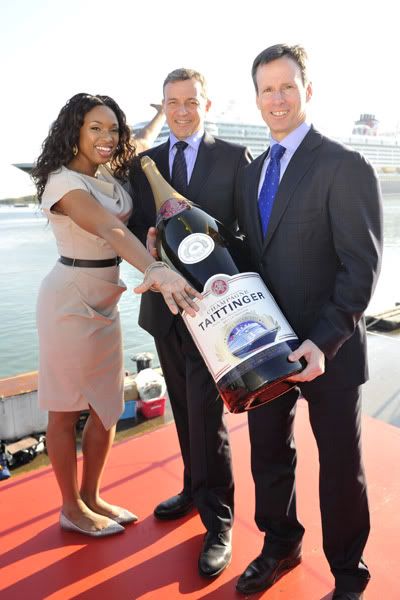 Lookin' uber cute Jenny. She posed with Walt Disney Company president and CEO Robert A. Iger (middle), Walt Disney Parks and Resorts chairman Thomas O. Staggs (right) and a ceremonial bottle of Champagne at the christening ceremony for the new "Disney Dream" cruise ship at Port Canaveral, Florida yesterday.
The Dream is the newest Disney Cruise Line ship and will have its maiden voyage January 26. And Jenny, who actually used to perform on a Disney cruise ship pre-"Idol"--has been named the "godmother" for the "Disney Dream" ship. Sweet!
A few weeks ago at the Gem awards, Jenny dished on her Neil Lane wedding jewels and pending nuptials to David Otunga.
On her wedding dress and wedding details:
"Everything is already set. We already have our wedding bands and everything made, and Neil Lane made them. I designed [my dress] myself. I did. It has its own show. It is a show, so it has to have its own moment with special lighting and everything, and theme music. Oh, I am so serious. It's white. That's the color, in keeping with tradition. Baby came first, but hey.

Oh my God, [planning] is so hard, and then the bride has to make all the decisions, and that's a lot of pressure. It's like 'I don't know what I want!'

One minute I wanted this huge, grand wedding, and now I'm like 'I don't know that I want it so big.' I have to make up my mind again. We'll have to wait and see, but I know I'll be wearing Neil Lane."
David, Jr. will look just like his father in his tux. So cute. I'll have both my Davids. Maybe he'll walk Mommy down the aisle. That would be so cute!"
On her and David's "Punk and Punky's" adventuresome relationship
"We're two big, giant kids, and we have the best time together. We call it our Punk and Punky adventures. [laughs] That's how we are. I think we complement each other well. He's a genius, he's super smart, and I think he's the perfect man for me.

That's the thing – you never know [what adventures]. We'll just get up, and then there's the day, and we'll have no idea what's going to happen, but we end up not like on this winding, never-ending journey, like 'OK, what are we doing? What's happening today?' but it's like we're friends first, and we enjoy each other's company, and it's a lot of fun. It's us together. These adventures are random, he snatches me out of bed, like 'let's go!' It's like 'ohh! Where are we going?' It's like we're on the David roller coaster. [laughs]."
Punk and Punky? They're funny.
Over in Jersey last night: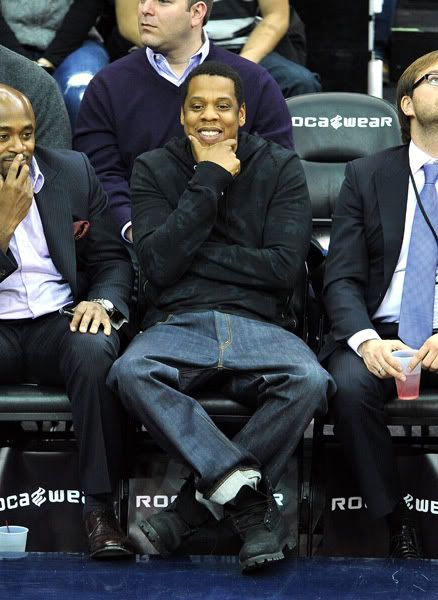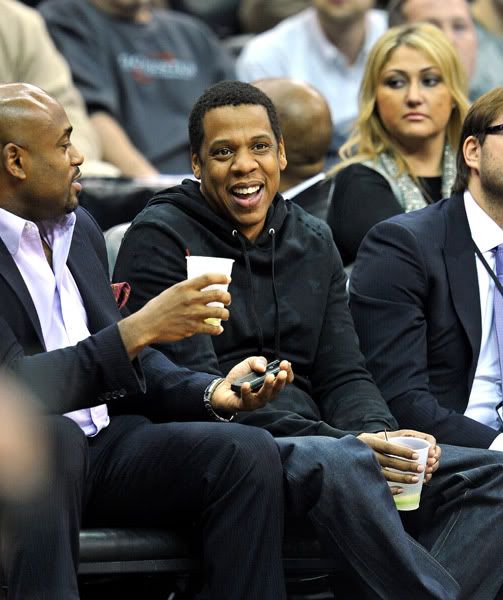 Jay-Z laughed it up courtside with his good friend Steve Stoute at the Nets game. He watched his team end a 6 game losing streak and beat the Utah Jazz.
By the way, Jay is supposedly teaming up with Will Smith for an "Annie" remake with Willow. That'll be interesting...