Kim Zolciak & Nene Leakes Say They Will Never Speak Again+Raz B Claims Yung Joc Beat His Brother's A$$
Jan 19 | by Natasha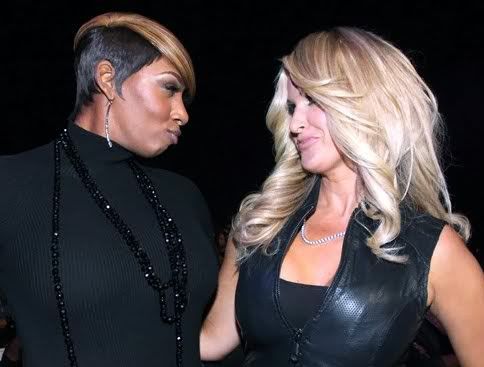 After Sunday's racially charged throw-down on Kim and Kandi's tour bus, 5-months-preggers Kim Zolciak and Nene Leakes claim they will never speak again.
The twosome's break-up details, plus Raz-B's latest accusations when you read on...
NeNe poppe doff on Sunday's episode after Kim called her "a stupid b*tch." It was all after Nene called Kim's "assistant" Sweetie Kim's slave and called Kim a dumb blonde. The fight wasn't pretty.
So Nene has been doing a bit of damage control telling media it was not her finest moment, it's far behind her, but she will never speak to Kim again. Life & Style reports:
"Tardy for the Party" singer Kim invited on-again, off-again friend NeNe on her tour bus, but instead of the two Housewives catching up on the latest gossip, all hell broke loose when NeNe accused Kim of treating Kim's assistant, Sweetie, like a "slave" — NeNe's word, not Kim's. When Kim yelled back at NeNe, "F---you, bitch," NeNe erupted and lunged at Kim.


"I'd never put my hands on somebody like that," Kim, who's currently five months pregnant, tells Life & Style. "NeNe just snapped." Luckily, Kim's entourage was able to restrain NeNe, who shockingly accused Kim of being a racist. But while no blood was shed, both women have suffered severe emotional scars that will stay with them forever.


"I wish I had followed my heart and not gotten on the bus," says NeNe to Life & Style. "I will never talk to Kim again. Never. I want nothing to do with her." The feeling is mutual, says Kim: "I don't need to be in a position where I am fearful."
Maybe this ish is for the best. Nene also offered her apologies to her fans for her foolish behavior:
"It's an embarrassing thing to see as a mother and as an adult," Leakes tells TVGuide.com. "I apologize to my viewers and fans, and to my children and family and friends who love and care about me. ...I apologize to them for them having to see me stoop to such a trashy level. When you fool with trash, it can get all over you."

"I got up out of my seat because I feel like Kim is a child," she says. "I feel like you need to get up, like you would do for your child, get down to their level, look them dead in the eye, and say, 'I'm not playing with you. I am dead serious. You need to shut your mouth now.' That's what I feel she needs. It's almost like you need to wake that b---- up. My intentions were to get in her face and let her know, 'Listen, don't play with me. I've had it.'"
Oh wells. Looks like they're on the outs for good. And when we say for good, we mean till next season.
In other news, Raz-B's ish talking instigating brother, Ricky Romance, got beat up...again. He was on his way to perform (perform? seriously?) at the the Salute the DJ's Award Show in ATL. And he says rapper Yung Joc's people responsible for this. TMZ reports:
According to Ricky, Joc's security team stopped Raz in his tracks and refused to let him perform -- all because Raz publicly dissed Yung Joc in a song a few months ago.

Ricky tells us he tried to help get his brother past the hired muscle ... but Joc's security wasn't having it -- and roughed him up pretty bad instead.

Ricky claims he suffered some nasty cuts to his head during the melee -- before he and Raz were both forcefully thrown out of the Atrium Event Center.

This type of foolery needs to end. Stat.