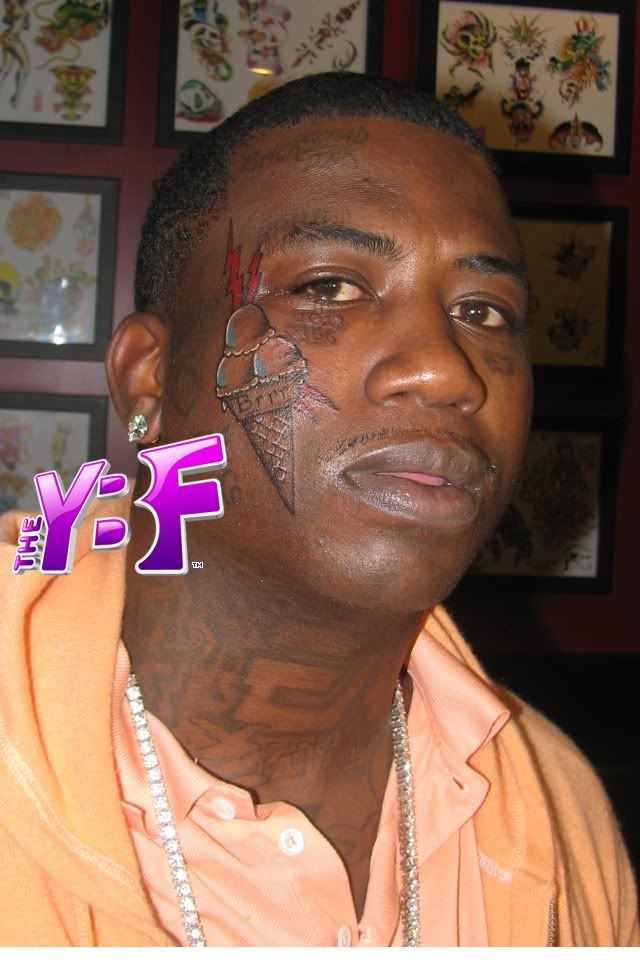 Wonder what other folks are saying about Gucci Mane's decision to get a face tattoo? So were we...and you can find out inside. Plus, hear what the tattoo artist had to say about his creation and if he will ever do it again....
A few other rappers in the game have offered their opinions about Gucci's face tat we were the first to break the news about on Wednesday. Here's our roundup...
D-Nice, legendary BDP member, tweeted:
Gucci Mane's facial tattoo of an ice cream cone causes my finger to inch closer to the delete button in Serato. He must've been #wasted,"
Talib Kweli tweeted:
That he was on his way to the "tattoo parlor for my new face tattoo. I'm gonna get my face tattooed on my face!"
Oakland rapper Yukmouth created a new hash tag dedicated to Gucci Mane:
"#guccimaneicecreamconetattoo used to be on #MASTERp arm…he upgraded from shoulder [sic] to 2 face."
Teehee.
And Joe Budden said
"I'm sure rappers are racing to get their Gucci Mane/cream on the face punchline…I'm getting mines done asap,"
SMH. I'm sure the jokes will keep coming...
Meanwhile, Shane Willoughby, Gucci's tattoo artist and owner of the shop says that Gucci will be the last person to ever get a facial tattoo with triple scoop ice cream cone with lightening bolts from Atlanta's Tenth Street Tattoo, because he probably won't do that again.
"I was [hesitant] like 'Are you sure you want to put that much [ink] in that area?,'" Willoughby told Vibe.com. "He came straight to the counter and that's where he pointed. When [Gucci] said he wanted to do the ice cream thing I said 'Well why don't we do it somewhere else?' But he was like I don't have anywhere else."
And for those of you who have seen Gucci shirtless...you now that isn't a lie. Where else would he put it? So...what makes a man put ink to his face? I'm still not sure but it wasn't the purple drank.
"I won't tattoo anybody if they're [drunk] or high because I can't stand the smell of weed... [Gucci] seemed completely sober" ha explained. "He knew what he was doing. He said 'I want something rock 'n roll.' There's nothing more rock 'n roll than lightening bolts."
Asked if he would do it again, Shane said no....he won't be taking anymore outragous requests.
"I don't think I'll ever do [that] again... no matter how successful [the celebrity]," he said.
Sigh...