BET Co-Founder Shelia Johnson Trashes Oprah's OWN Network
Jan 10 | by _YBF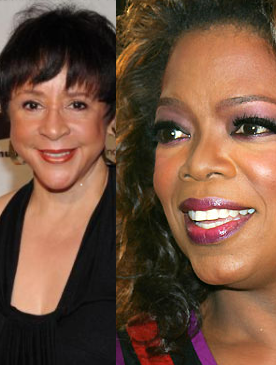 Not everybody's feeling O's brand new cable network. Sheila Johnson, the co-founder of BET newtork, slammed Oprah Winfrey's OWN Network for what she called its "lack of diversity." Peep the shots she fired inside...
During an interview on NPR's "Tell Me More," BET co-founder and fellow billionaire Sheila Johnson slammed Ms. Winfrey when asked about the mogul's new OWN network.
"The only advice that I say, let's open up your circle a little bit more. You know, we love the Dr. Phils. We love the Suze Ormans. Let's open up. There are other people. And there's also African-American experts out there that I think she should start bringing on her show that can reach even a wider audience."
Sheila said she sees Oprah's new venture as a missed opportunity because of its lack of diversity. While saying Oprah has the power to create opportunities for minorities, Sheila said she hopes one day this will become a reality.
"And I think she really should do that and not be afraid to do it. There's really a lot of great experts out there that really know the businesses at hand. And I'd like to see her open up her circle to do that."
OWN could use a little color; however, I don't think Oprah has ever used any of her platforms to only provide opportunities for minorities. But Oprah has said herself this new venture is a learning process so maybe there's some changes in the works. Or not. Either way....it's Oprah's and she can do as she pleases. Your thoughts?
The Randomness:
1. A photographer is suing comedian Mike Epps for $1million for a November assault at party. Story.