Tyler Perry Assures Fans He Did "For Colored Girls" Justice, Makes Casting History
Oct 13 | by Natasha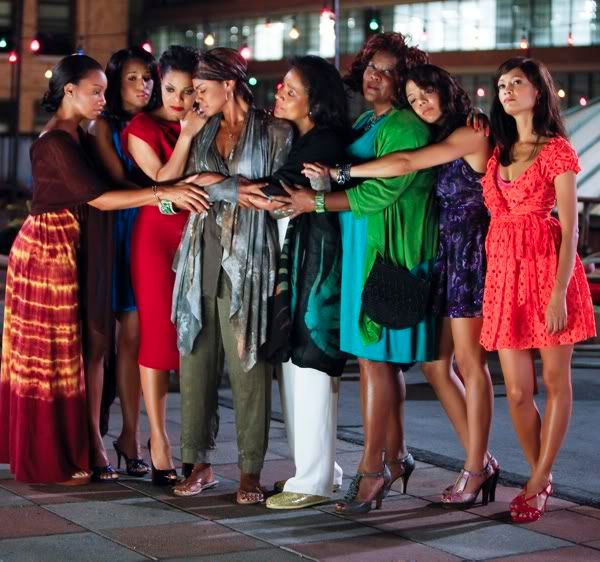 Director/Writer/Producer Tyler Perry sent out a letter last night to address the doubts and concerns people are having that he can pull off a movie version of the stage play and book "For Colored Girls Who Have Considered Suicide When The Rainbow Is Enuf".
He addresses the doubters when you read on...
Tyler explained in his message to fans yesterday how he went about turning the unique stage play "For Colored Girls" into a movie. And he assured the doubters that he did the literary work justice. By the way, Tyler and the cast are making history with having the largest black female ensemble cast in a movie. FABULOUS. His letter:
We are only a little more than 3 weeks out from FOR COLORED GIRLS, which
opens on November 5th. Wow, time is flying! I wanted to talk to you for
just a second about this film. There has been a lot of Internet chatter
about me doing this film. I've heard everything from, "I'm glad he's doing
it!", to "How dare he touch this!". Believe me, I know that this is
sensitive material and I handled it that way. If you don't believe me see
for yourself on November 5th.

If you know anything about the book or play, FOR COLORED GIRLS WHO HAVE
CONSIDERED SUICIDE WHEN THE RAINBOW IS ENUF, which is what my film is
based on, then you know that it is one of the most powerful literary works
of this century. But, if you know it, you are also thinking like I was,
"How can I make this into a movie?"

After reading the play a thousand times and listening to these poems a
million times, it hit me. There was only one way to approach it. So what
I did was, I put these characters in the situations around the poems, so
that they could speak the dialogue of the book without it sounding like a
poem. And I have to tell you, I wasn't sure that it could be done. But,
after listening to Phylicia Rashad, Thandie Newton, Kerry Washington, Macy
Gray, Kimberly Elise, Tessa Thompson, Whoopi Goldberg, Loretta Devine,
Anika Noni Rose and Janet Jackson say these words it was awesomely
seemless.

The stories are about eight women who live in NYC and we follow them
through their lives; follow them through loving, losing, giving too much
of themselves, being hurt and betrayed, but most of all, we follow each of
these women as they find love for themselves.

This movie is powerful. It is incredible. The performances in it are
astonishing, but most of all this film will leave you lifted.

I don't know if you know this either, but never in the history of a
feature film has there been an ensemble of this many black women. That
alone is worth celebrating. I hope you are planning to see it on November
5th.

By the way, you don't have to be a colored girl to be able to relate to
and enjoy this movie.

Can't wait till November 5th! Check out the trailer featuring the cast Janet Jackson, Tessa Thompson, Kerry Washington, Whoopi Goldberg, Loretta Divine, Anika Noni Rose, Thandie Newton, Kimberly Elise, Macy Gray, and Phylicia Rashad:
Extras:
1. CNN is doing great live coverage of the Chilean miner rescue workers HERE.