Gregg Leakes Makes Statement (And Apologizes) For Leaked Audio About His Wife NeNe
Jun 09 | by Natasha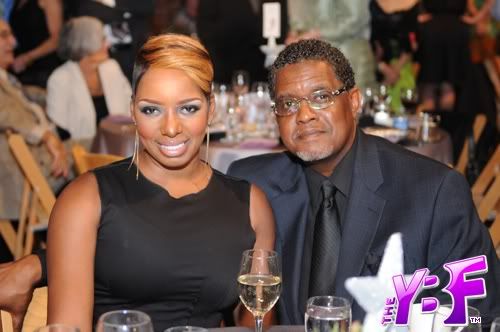 Gregg Leakes just issued a statement today regarding that leaked audio where he was telling his friend/radio host Corey King about his divorce and marital woes with ATL Housewife NeNe and their financial woes. Gregg went and hired PR people to clean his mess up. Couldn't he have used that money to pay Corey back, since owing him money is what got him into this situation to begin with?
We're also told that the radio host is releasing some very personal credit information of Gregg's today.

Gregg says he didn't know the convo with Corey King of Large FM was being taped. And he says it was a personal conversation with friend, not an interview. But he's not denying that he and NeNe are facing divorce and are riding down Brokeville Lane. Here's Gregg's statement, legal threat, and apology:
On June 2, 2010, an unauthorized audio taped conversation between Mr. Gregg Leakes and Mr. Corey King was made privy to the public by Mr. King and Large FM. While Mr. King touted an "exclusive interview", the taped recording was obtained by fraud and deception. Neither Mr. King nor Large FM were granted consent to interview Mr. Leakes and an interview never occurred.

Throughout the duration of the call with Mr. King, Mr. Leakes was under the impression that he was simply confiding in a friend after an argument with his wife. However, Mr. King has demonstrated through this blatant disregard of Mr. Leakes' privacy that he does not even comprehend the word "friend". The audio recording was deceptive and the release of it was nothing short of malicious.

It is not a secret to anyone that Mr. and Mrs. Leakes are facing marital challenges, a situation common to many couples. However, there is no doubt that Mr. King's intentions were dishonorable, hateful, and inexcusable. His deceptive act was committed without any regard to Mr. or Mrs. Leakes.

Mr. Leakes, acting on the advice of his attorneys, has issued a "Ceast and Desist Order" to Large FM and other media outlets, concerning the broadcasting of the unauthorized, so-called "exclusive Interview". Although Georgia is a one-party consent state, Mr. King still may have violated several federal and state regulations, including the Wiretap Act, the Privacy Act, the Privacy Protection Act, the Right of Publicity, the Right to Financial Privacy Act, the Telephone Consumer Protection Act, the Fair Credit Reporting Act, Georgia's Fair Businesses Practice Act, and Georgia's Surveillance and Publication of Private Facts statues.

Mr. Leakes has apologized privately to his wife and he offers a sincere apology to the others mentioned in the audio. Any further discussion of the matter should be amongst Mr. Leakes and those individuals, privately.

Any further attempts by Mr. King to discuss this matter in a public forum will be met by the full exercise of legal protections afforded to Mr. Leakes, up to and including the filing of a lawsuit.
Sigh....