YBF KIDS: Justin Combs' & Ming Lee's Birthday Plans+Willow Smith Out With Dad
Jan 21 | by Natasha
Justin Combs is about to get the best birthday party ever.  MTV's "My Super Sweet 16" is filming his birthday party this Saturday at an undisclosed club M2 Ultra Lounge in NYC (damn our readers are good).  The theme of the party: "The Prince of New York."  What else would it be when your dad crowned himself the King of NY?  Diddy is bringing in Chris Brown, Dirty Money, Snoop, and maybe even the Carters.
A source said, "The club will be decorated with images from the New York skyline. Diddy will perform with his band, Diddy-Dirty Money, but there will also be some big-name performers taking the stage to surprise Justin." Guests will also include Combs' pals Snoop Dogg, Lil' Kim, boxer Floyd Mayweather and possibly Jay-Z and Beyoncé. The source added, "It's going to be big, but it won't be as lavish as Diddy's 40th. Instead of gifts, guests will be asked to make a donation to the Haiti fund."
Well this ought to be interesting. I'm sure mama
Misa
and grandma
Janice
will be coming through with the best of 'em. Diddy hosted
Kim Porter
's son
Quincy
's Sweet 16 just a few years ago as well.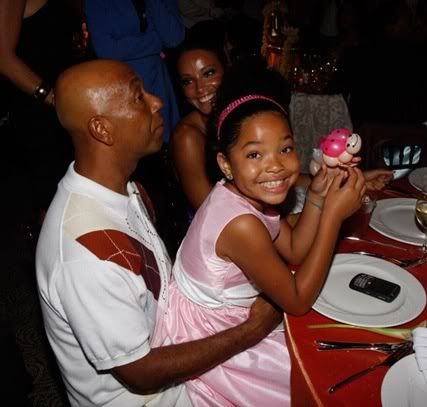 Today is
Ming Lee Simmons
' 10th birthday. And her daddy
Russell
blogged
about how much his daughter is growing up. And how she even only thought of others during the Christmas Holidays and what she wanted to gift them with...instead of her own desires. So here's his newest revelation about Ming's birthday:
Ming Lee's birthday is today and her mother and I are going to have a dinner for her that night in Los Angeles. When I called Ming Lee yesterday to see what sort of present she wanted me to bring her, again she told me "nothing." "Are you sure?" I asked. "Don't you want another nightgown like the one you got in St. Barts? You seemed to like that." "The dress was nice, but no thanks, I really don't need anything else," she said. "I just want to make sure that you're there for my birthday dinner." When Ming Lee told me that, I realized that she was beginning to understand one of the most basic truths in life: that true happiness is living in a state of needing nothing.
Sweeeet. And
Willow Smith
was spotted walking around Calabasas with her daddy
Will
this week: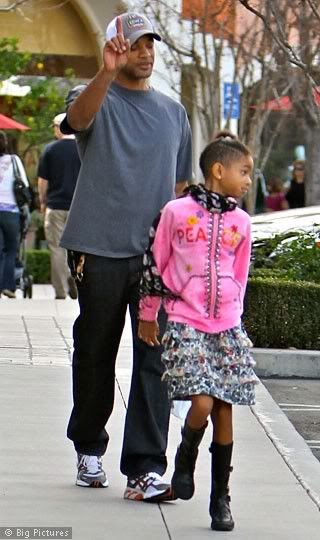 They
did
say they let their children dress and groom themselves...