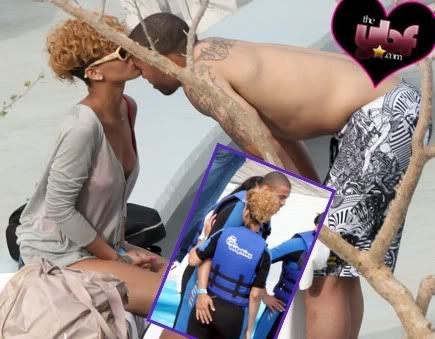 New dog...old tricks.  Rumors are in a flurry today that
Rihanna
's new baseballer boo
Matt Kemp
isn't a fresh change of pace after all. Reports have been revealed that allege Matt has a restraining order against him...by his 30 year old ex girlfriend
Felisha Terrell
. All because of his violent ways. Sound familiar? The scoop when you read the rest... Felisha is saying that she feared for her life while she was dating Matt 2 years ago (when he was 23). According to a report by
Yahoo News/The Mirror
:
Rihanna, 21, is currently dating LA Dodgers star Matt Kemp, and an ex-girlfriend of his, actress Felisha Terrell, 30, has revealed his violent past and claims that she took a restraining order out against him in June 2008. "He is violent and I am afraid. He repeatedly made me scared and gets in my face. He is threatening to take all the items I purchased and try to destroy my property," the Mirror quoted her as saying. "He brings his friends driving up and down the street to try and intimidate me. I am very fearful. He has other people calling me and stalking me," she added. Terrell had in her application for the restraining order claimed that Matt was "kicked out of a club for fighting with a woman - I am afraid his behaviour will turn towards me since we are no longer dating".
Fighting a chick in the club
and
threatening your girlfriend? If this is true, ruuuuuuuuun Rihanna ruuuuuuun.
*UPDATE*
Both Matt and Felisha Terrell have released statememts about these allegations.  Check out our update
HERE
.
Icing on the cake
: Most of you know Matt was dating
Letoya Luckett
right before he got with Rihanna. But what some folks don't know is that Letoya only found out she was dumped when she saw the pics of Matt and Rih Rih all over each other.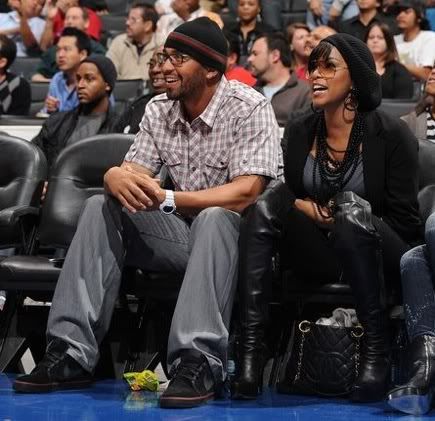 Matt and Letoya are seen here kicking it courtside at a basketball game in October. He started dating Rihanna in November.  And pulled his courtside foreplay with
her
just this past weekend
...