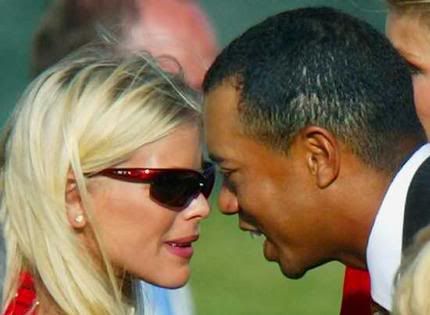 While
Tiger Woods
is now claiming full responsibility for the "minor car accident" that took place a few nights ago, he and his wife
Elin Nordegren
are still hiding from the Florida Highway Patrol and canceling meetings with the cops. Here's the statement Tiger just posted today on his official website:
As you all know, I had a single-car accident earlier this week, and sustained some injuries. I have some cuts, bruising and right now I'm pretty sore. This situation is my fault, and it's obviously embarrassing to my family and me. I'm human and I'm not perfect. I will certainly make sure this doesn't happen again. This is a private matter and I want to keep it that way. Although I understand there is curiosity, the many false, unfounded and malicious rumors that are currently circulating about my family and me are irresponsible. The only person responsible for the accident is me. My wife, Elin, acted courageously when she saw I was hurt and in trouble. She was the first person to help me. Any other assertion is absolutely false. This incident has been stressful and very difficult for Elin, our family and me. I appreciate all the concern and well wishes that we have received. But, I would also ask for some understanding that my family and I deserve some privacy no matter how intrusive some people can be.
Interesting. Especially because FHP reportedly went to Tiger's home for the umpteenth time today for another scheduled meeting, and the couple turned them away...again. Some media sources are reporting it's because the scratches on Tiger's face are indeed from Elin and cops will be able to determine the human made marks from "car accident" marks. There was also no blood in the car even though Tiger was found with blood all over his face post-accident. Who knows how all this is going to turn out...but methinks there's some guilty covering up going on...
Pics from the scene of the accident via TMZ