Julia Hudson: My Love For Someone May Have Costed My Family
Oct 28 | by Natasha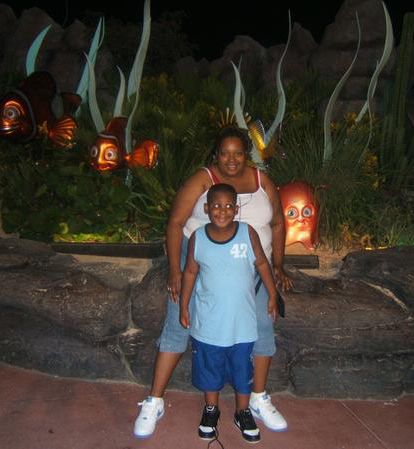 Julia and Julian at Disney World
Julia Hudson
, sister of
Jennifer Hudson
, updated
her myspace page
. She spoke about the deaths of her mother
Darnell Hudson
, brother
Jason Hudson
, and only son
Julian
. And she says that loving a certain person may have cost her the beautiful family she had. Here's a snippet:
LETS SEE IM 29 YEARS OLD I HAVE ONE CHILD AND I'M ALWAYS BORED, I LOVE TO HAVE FUN EVEN START A LITTLE S*** HERE AND THEIR i HAVE TWO YOUNGER SIBLINGS MY SISTER IS JENNIFER HUDSON YES THE JENNIFER HUDSON AND MY BROTHER IS JASON,I GUESS IT'S TIME TO UPDATE THIS WHEN I STARTED MY MYSPACE ALL OF THE ABOVE WAS TRUE , NOW BECAUSE I CHOSE TO DO WHAT WAS NATURAL TO ME AND LOVE SOMEONE , IT COST ME MY BEAUTIFUL FAMILY MY WONDERFUL BEAUTIFUL LOVING SUPPORTING MOTHER DARNELL, MY TRUE BLUE BABY BROTHER JASON , I LOVE U BIG BABY ... AND LAST BUT NEVER NOT LEAST MY ONLY SON JULIAN , MY INNOCENT BABY ONE THAT WAS SHELTERED FROM ALL THE EVIL OIN THE WORLD BECAUSE WE LOVED HIM SO MUCH...
She also addresses the questions as to why she was updating her myspace page throughout this tragedy:
THAT WAS A WAY TO MAYBE HELP ME GET MY SON, MY BABY THE ONE I CARRIED UNDER MY HEART FOR 8 1/2 MONTHS THE SON IT TOOK ME 21 HOURS OF LABOR TO BRING HERE THE SON I GREW TO KNOW AND LOVE FOR JUST A FEW MONTHS OVER 7 YEARS THATS WHY ...
She goes on to thank her loving friends and fans for all that they did throughout these last few horrifying days. And she left her status as "numb". There is still no update on
William Balfour
who has been in custody since Friday. William's girlfriend, however,
tells police he is indeed involved in the slayings
. And it seems as though Julia is speaking about
him
when she talks about loving someone who could have cost her family. So sad.