The lack of YBF folks on the Primetime Emmy Awards red carpet last night was ridiculous. But here's the few black and brown folks in attendance:
Lady O
opened the show as only Lady O could.  And that ish wasn't a 20 second long ass breathless run on  sentence a la
Britney Spears
either.  She looked fabulous in her red gown.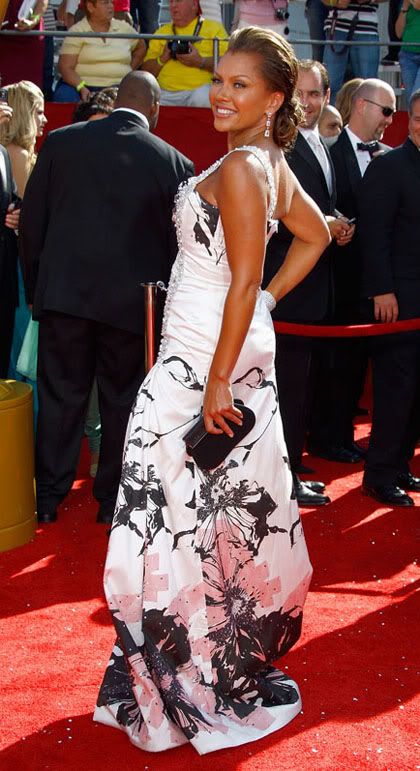 Vanessa Williams
rocked a Kevan Hall print gown and looked simply fabulous in it.  And "Ugly Betty" got robbed last night. And as for
Mrs. Longoria-Parker
:
I surprisingly loved this look on her.  I know most folks will disagree but there's something about it I love. And I typically hate any type of bows on clothing--they just scream COUNTRY to me. She wore a Marchesa flapper style dress with a huge bow tie on the bust like she was wrapped up to be
Tony
's present.   It was definitely a fashion risk but it works for her.  And honestly nobody else could really pull this off other than Eva and her overly self tanned miniature self.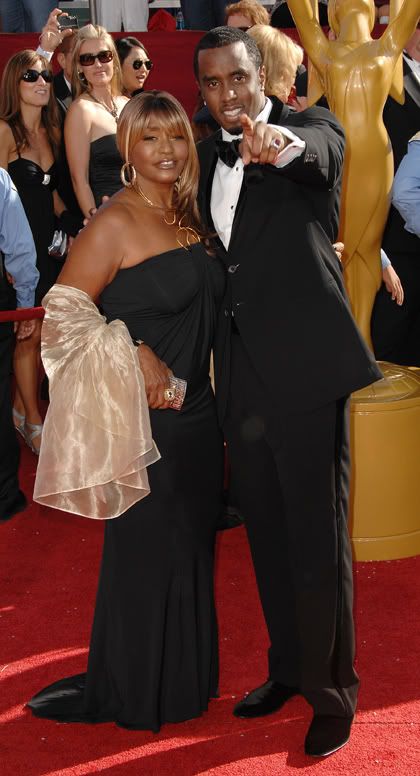 Diddy
hit the red carpet looking dapper as usual.  He was nominated for his producer role for "Raisin In The Sun".  I'm just in shock
Mama Combs
is lookin' real nice for this one.  Diddy clearly put her in check before they even thought about leaving the house.
And only Diddy would commit this type of divo act on the red carpet. More pics when you read the rest...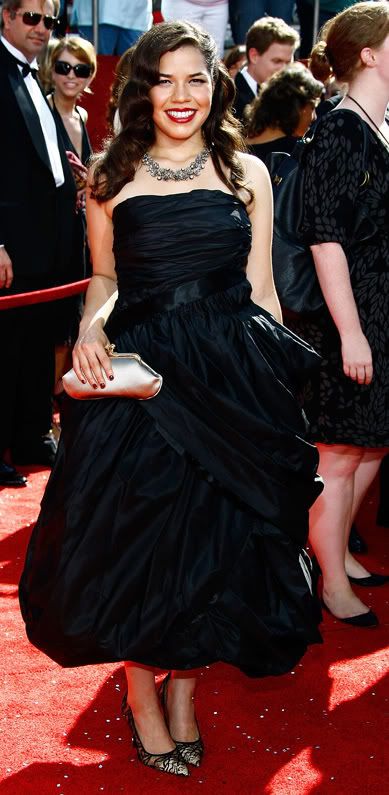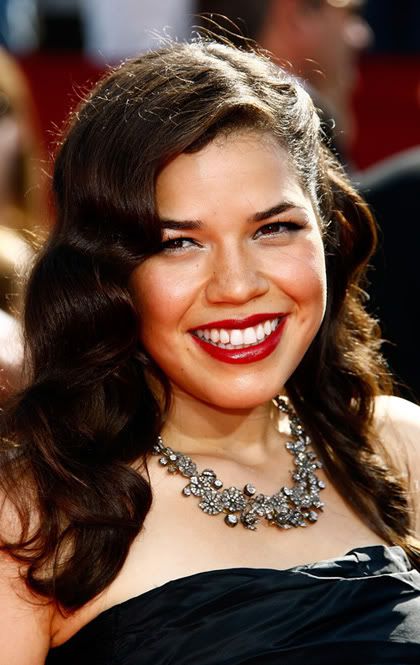 America Ferrera
looked nice sans that "I just played in mommy's makeup bag" look. Actually, I hate the dress too. But I like America so... More pics of Vanessa and Eva: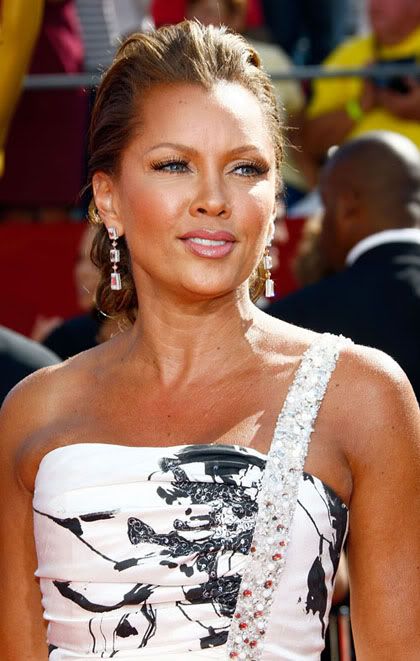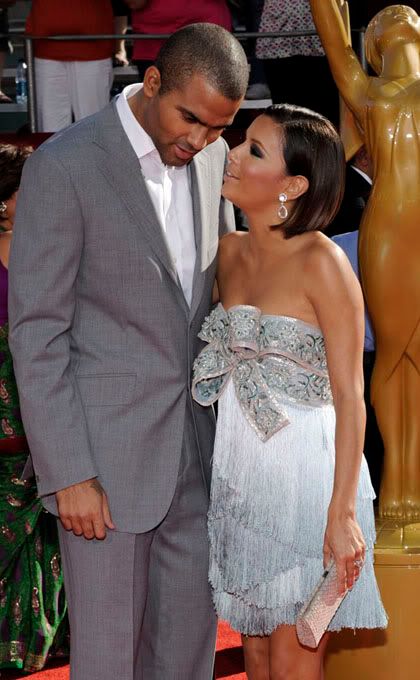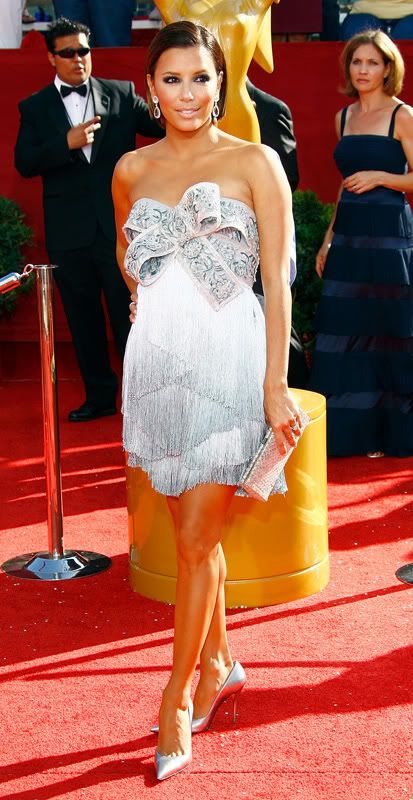 By the way, Eva's still sticking to the "I gained weight for my 'Desperate Housewives' role and I'm not pregnant" story.  She definitely is playing a mother of two very young kids this upcoming season and is also wearing a custom made fat suit for her.  But that
may
not completely rule out a real life pregnancy...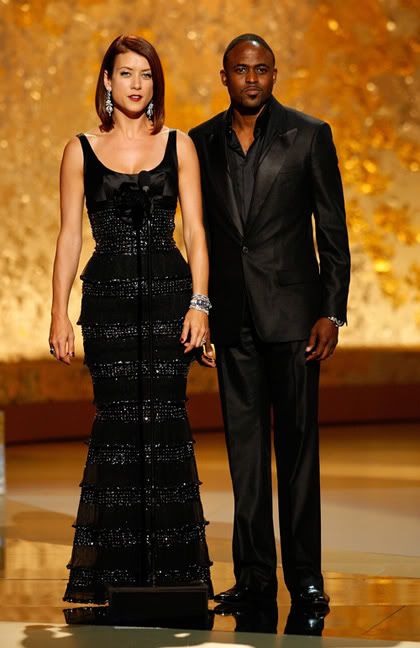 Wayne Brady
actually said he dressed himself for this event...because he can.  And he did a pretty good job of it too.
And
Alfre Woodard
hit the red carpet with her gorgeous daughter
Mavis
. Congrats to
Tracey Morgan
and the "30 Rock" cast for making history and with the awards they won last night.
Splash News
The Randomness: 1.
Travis Barker
and
DJ AM
are expected to make a full recovery after this weekend's fatal plane crash in Columbia, South Carolina. They have suffered sever burns to almost 50% of their bodies. All four other people on the plane, including Travis' assistant
Chris Baker
(
Lil Chris
), were killed. 2.
Nate Dogg'
s recovery from his second recent stroke isn't going as well as expected. He is being fed through a feeding tube and can barely get around on his own. Radio host
Big Boy
spoke with
Warren G
this weekend and he says Nate has actually gotten a bit better over the weekend. Sources say bad diet was the cause of Nate's recovery taking a turn for the worse.