The official covers (and back page photo) are here: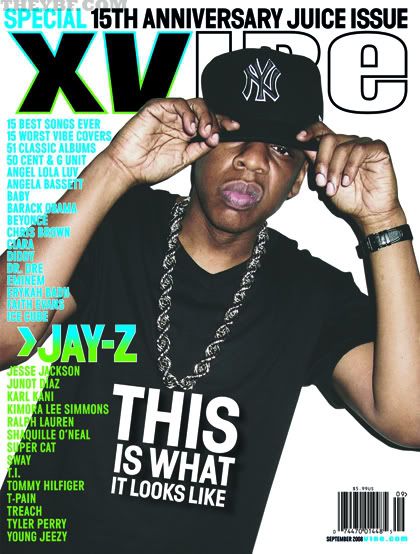 Jay-Z's appearance on this month's VIBE cover for the 15th Anniversary Juice Issue comes following the recent announcement of his upcoming album the Blueprint III, his last album on Def Jam. The rap superstar informed fans of his plans for the new album during his surprise appearance last night in New York City during Kanye West's "Glow in the Dark Tour." Check out a brand new track they performed in concert last night off the album here. This month's double issue will feature two unique cover photos and special back page photo in a collectible flipbook design. Music journalist/author and VIBE contributor Elliott Wilson interviews Jay-Z for this month's cover story as he joins the mogul on tour for a five-day trip across the UK. Wilson grills the rapper/businessman with 15 questions about his life and career – from the breakup of Roc-A-Fella, to his support of Barack Obama, to his alleged marriage to long-time girlfriend Beyoncé Knowles. Jay-Z on supporting Senator Barack Obama: "What [Obama] represents is, we as a people are part of the American Dream…We were left out of the dream at a certain point. Now the dream is, you can be anything – and it's not cliché." Jay-Z on Lil Wayne: "You should embrace the next generation…I think he's really a fan of mine. I think he really loves the sh-t that I've done…The public has him in line next, and for me to say he's not in line next would be foolish." Jay-Z's response when asked to confirm his marriage to Beyoncé: "I just think it's really a part of your life that you gotta keep to yourself…You have to have something sacred to you and the people around you…I shared so much of my life…I should have something to hold on to." Jay-Z on his tenure as President of Def Jam: "Everyone always analyzes the job that I've done at Def Jam…I always feel the need to justify it…If anybody in their tenure had Kanye, Rihanna, and Ne-Yo…One album for each one of them in three years is a superb job." The cover feature also includes a complete songography of Jay-Z's music. VIBE Music Editor Sean Fennessey exhaustively documents, denotes, and describes the rapper's entire volume of work totaling more than 450 songs. Nice. Jay-Z's latest interview on Shade 45 talking about having babies and his new album when you read the rest...
Click the following headlines to listen to the audio clips: Jay-Z talking about his surprise performance with Kanye at last night's Glow In The Dark Tour Jay-Z on The Blueprint 3 (Confirms it's the official title of his next album) Jay-Z on dealing with producers' egos Jay-Z on the rumor that his LiveNation Deal is falling apart Does Jay-Z want to have babies soon? Is Jay-Z really married?