A YBF snitch who hit up that infamous 106 and Park show where
Rocsi
"stormed off stage" has dished us the scoop on how horribly Rocsi and
Terrence
treated their fans and how they possibly staged the whole beef from a couple weeks ago: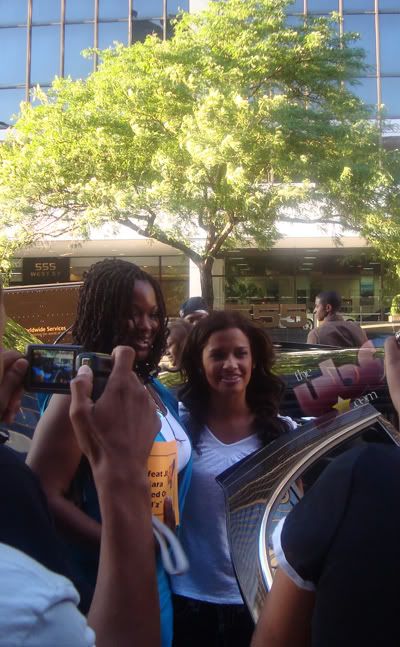 Apparently those two are known to get real Hollywood and not show much love to their adoring teen fans who come to the tapings.  Here's the recap a YBF reader sent in:
WE WERE THERE FOR THE LIVE 6 O'CLOCK SHOW NOT THE ONE THEY TAPE EARLIER IN THE DAY TO SHOW FRIDAY. THE "SUPPOSEDLY" DRAMA ONE. I KNEW THAT STUFF WITH ROCSI AND TERRENCE WAS FAKE BECAUSE IF THEY WERE MAD AT EACH OTHER, THEY WOULD HAVE NOT BEEN SITTING TOGETHER AND JOKING WHEN THEY CUT TO THE VIDEO'S AND ON COMMERCIAL BREAKS. THE EXPERIENCE WAS ZZZZZZZZ!
IF A GUEST IS NOT ON, THAT SHOW IS TERRIBLE. ROCSI AND TERRENCE DID NOT SPEAK TO ANY OF THE AUDIENCE DURING THE VIDEO TIME OR THE BREAKS. I THOUGHT THAT WAS WRONG! TERRENCE ROLLED HIS EYES AT THE GIRL BEHIND ME BECAUSE SHE KEPT CALLING HIS NAME. TERRENCE AND ROCSI ARE NOT FRIENDLY TO COMMON FOLKS. TRUST, THEY DIDN'T REALLY WANT TO TAKE THOSE PICTURES [posted above]. I WAS SAD FOR THE KIDS BECAUSE THEY WERE EXCITED ABOUT SEEING THEM OUTSIDE, BUT THEY ARE NOT  THE NICEST PEOPLE. IF WILL SMITH OR TOM CRUISE CAN STOP AND GREET EVERY FAN, WHY CAN'T TO VJ'S DO THE SAME?
Our snitch even dished about BET's color complex when putting audience members in certain places on the set:
I NOTICED HOW THE SEATING GUY PUTS PEOPLE WHERE THEY NEED TO SEATED. THIS IS WHAT MY EYES SAW. IF YOU ARE BIG, NOT ATTRACTIVE IN HIS EYES, OR OLDER LOOKING OR OLD, YOU WILL NOT BE ON CAMERA. IF YOU ARE LIGHT YOU GET A PASS, NOW IF YOU ARE A DARK SKIN FEMALE, YOU CAN SIT ON THE MAIN STAGE, BUT YOU HAVE TO HAVE LONG HAIR, OR A NICE SHAPE. PUERTO RICAN GUYS GET TO SIT ON THE MAIN STAGE, AND NICE LOOKING BLACK GUYS THAT ARE NOT TOO "DARK" FOR HIM. NOW, IF YOU ARE COOL, OR HAVE YOU OWN STYLE, YOU GET A PASS. BASICALLY IT COMES DOWN TO LOOKS AND IF YOU ARE HIS FRIEND. THE SEATING GUY IS DARK SKIN. I GUESS HE FORGOT, BLACK IS BEAUTIFUL, PERIOD!
Why am I not surprised?  Do better BET.   And I guess there was some rumor floating around that
Monica
was dropping disses toward the Queen B.  Monica talked to BlogXilla this weekend about how untrue those rumors about her beefing with
Beyonce
are:
Wackalicious.