Ray-J
was spotted out and about...once again...with
Mama Whit
.  They hit up Villa nightclub together Saturday night.  And conveniently, this comes right after Ray-J's people confirmed to TheYBF.com that his reality show is indeed in the works right now.  It's unclear as to whether taping has already completely wrapped up or if they're just doing sporadic shots--like this one--here and there.  But Brandy's lil bro has indeed made the move from porn star to wannabe reality star.  What his show could possibly be about is beyond me.  But if Whitney is all up and through it, my DVR will be set.   
Show me the receipts!   More ish when you read the rest...  
Nelly
is ditching his own Applebottom promos for his boy
Diddy's
Sean John Underwear promos.  Mr. Sean Jean himself has tapped the fineness that is Nelly (no pun intended) to be his new underwear model for his new line.  Online clothing boutique
Dr. Jays
reports:
Diddy has chosen fellow hip-hop star Nelly to star in an upcoming ad campaign for
Sean John
Underwear.
"I have known Nelly for many years and I really admire his work," says Diddy. "To me, Nelly is the quintessential definition of the Sean John man."
Sean John Underwear is licensed to New York-based company Basic Resources, and the line consists of briefs, boxer briefs, boxers, undershirts, pajamas and robes.
I already know these ads will bring nothing but the smiles to my face.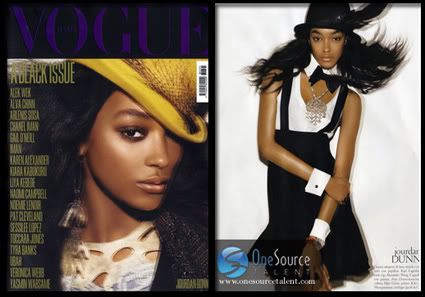 Vogue Italia
is not slick.  After copies of the Black Issue of
Vogue Italia
flew off shelves quicker than the IPhone
, a source who is a US distributor of the mag dished some interesting info to TheYBF.com.  I'm told this first time historic reprint of this issue (first time for any
Vogue
issue matter of fact) didn't only occur because
Vogue
wanted to make history.  But they actually gave word to all of their US distributors to  "keep this All Black Issue on the stands until AFTER the November elections."  And those were Vogue's EXACT words.  Is this their way of getting into the subconscious of their US readers and to possibly show how fabulous black can be...and in turn giving
Obama
 positive reinforcement?  Me thinks so.    I'm told that trying to give Presidential hopeful Barack Obama support from overseas is the major reason for the extra quick reprint of the issue.  Distributors who typically only receive less than 10 copies of Vogue Italia were given double that amount out the gate for this particular Black issue.  And they didn't even ask for it.  The distributors then received an unprecedented amount of reprint issues (compared to any other international mags) and those are selling out as we speak.  Yeah...we see you
Vogue Italia
.