The Obamas Interview With People+Nas' Protest Pops Off
Jul 24 | by Natasha
Barack and Michelle Obama sat down with People Magazine to talk about their family life and the Presidency. Here's some cute pics and snippets from the interview: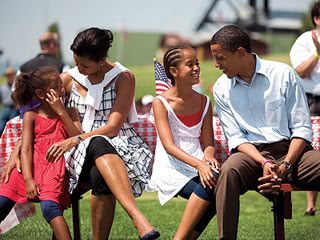 PEOPLE: Someone told me today that you don't do birthday presents.Michelle: No, because we spend hundreds of dollars on a birthday party and movie tickets and pizza and popcorn ... Barack: That sleepover is enough. We want to teach some limits to them. And their friends bring over presents. Michelle: They get so much stuff that it just becomes numbing. Malia believes there is still a Santa Claus even though she's a little wary because some of her friends are non-believers. But Malia says, "Ma, I know there is a Santa because there's no way you'd buy me all that stuff." [Laughing] So what does a slumber party at the Obama house look like?Barack: They're pretty noisy. Michelle: The older they get, they just talk a lot. But they're at the age where they're pretty self-sufficient. [For Malia's birthday] we're going to go swimming, see Wall-E, make pizzas, have sundaes. Barack: I usually go for the swim but this time I want to go to the movie just because Wall-E has gotten great reviews. I find actually that children's movies are the best movies these days. But I'll probably, after that, peel off until the cake. Michelle: [Laughs] "Peel off." Last year, when we first met, Malia said that she sometimes wished maybe you wouldn't win. Do you think they still have those mixed feelings? Barack: I am absolutely certain because we've talked about it – that they are not looking forward to moving. They have a wonderful life in Chicago, they have lifelong friends in Chicago and the prospects of having to make new friends, that's never something that kids are looking forward to. So I'm sure that there's a part of them that says we won't be heartbroken if things don't work out. Can you tell me how this experience has changed your marriage?Barack: It's made it stronger. The tough times for us were when the kids were real small, I was away a lot and Michelle was still working. So, the burden on her was enormous, and I think there's a feeling that maybe I didn't fully appreciate that burden. That was something we worked through. And I think we're both more patient with each other. We both know how to avoid making the other person feel aggravated. And I'm so proud of her and I think she knows how much I love and appreciate her. So, she puts up with me. Michelle: I think it has made us stronger. Time and love and sacrifice and hard struggles, I think, make you stronger. Barack: I also think that she knew at the beginning when I was doing this that if she came to me and said don't do it, I wouldn't have done it. Michelle: That's the key, for sure. Barack: And if I ever thought that it was ruining my family, I wouldn't do it. Michelle: We're constantly balancing each other. I know that if I were to say, "I can't take this," it would be over. You can catch the entire interview in full here at People.com
Pics of Nas at his protest outside of Fox News yesterday when you read the rest...
Here's a few throwback pics of Michelle and Barack that accompanied the article: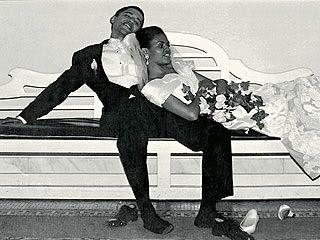 Loves it. And over at FOX Headquarters in NY yesterday, Nas delivered his 671,000+ petitions that tell Fox News they are out of control with the anti-Obama propaganda:


And here's the vid from the protest:
Nunez/Wireimage