Are We Really Surprised About R. Kelly & A 21 Year Old?
Feb 16 | by Natasha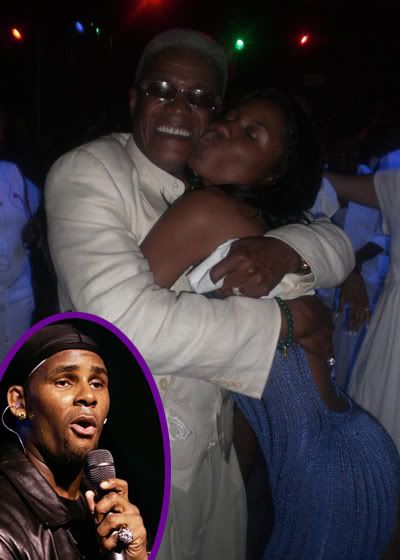 George
and his daughter
Maxine
  So well known Chicago music retailer
George Daniels
has given the full dish on KJLH radio about exactly what went down when his wife
Regina Daniels
severed all ties as 41 year old
R. Kelly's
publicist.  He confirms that Robert Sylvester Kelly indeed tapped his 21 year old daughter Maxine on numerous occasions.  And they were involved in a sexual relationship--and The R has known Maxine and the fam since she was a little girl.  Peep the audio: [audio:georgerkelly.mp3] Oh Sly... And now, R. Kelly's camp has issued a statement about this to
TMZ
:
 "It's hard to take seriously the moral outrage expressed by George and Regina Daniels over R. Kelly's relationship with Mr. Daniels' adult daughter, Maxine. The fact is that they had no problem with the relationship -- indeed, they encouraged it -- while Ms. Daniels was on Mr. Kelly's payroll.
It was Regina Daniels, then working as a publicist for Mr. Kelly, who persuaded him to attend her step-daughter's 21st birthday party. And it was Regina Daniels who shortly thereafter gave her step-daughter Mr. Kelly's private phone number, with the admonition: 'Don't tell your father.' It was only after Ms. Daniels resigned her position to avoid being fired for incompetence that her stepdaughter's relationship suddenly became an issue for her and her husband."
Damn!  Ish just got interesting...