Lil Wayne Gets Kissy Kissy With Zac Efron?+Remy's Camp: Video Is A Fraud!
Dec 19 | by Natasha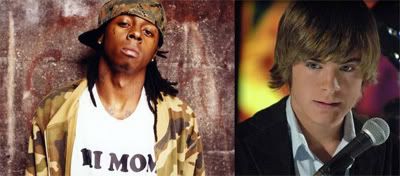 So
OC Weekly
caught up with
Weezy
to talk about his new involvement with the
High School Musical 2
CD:
Non-Stop Dance Party
. He says he wants to start pulling a
Kanye
and appealing to the suburban kids. So he's teaming up with
HSM
star
Zac Efron
on some tracks. And apparently Zac is staying in Wayne's guestroom while they bang out that ish. Speaking of banging out, Zac emerged mid interview:
"What's up, my nigga?" Efron says, giving Wayne a pound, a hug, and then, to my astonishment, a full-on kiss, reminiscent of the one Wayne famously gave his surrogate father Baby last year.
Damn.
First his daddy
now his boy. The only thing more surprising than this ish is the lyrics to one of their tracks so far:
On "All for One," Efron sings the chorus—"Everybody all for one, a real summer has just begun! Let's rock and roll and just let go, feel the rhythm of the drums. We're gonna have fun in the sun!"—while Wayne raps: "I'm a dog, you're all a bunch of fleas on my dick. Driving a Jag, er, like my name was Mick. I'm so sour like cream with chives, and my sperm will make your face break out in hives."
Seriously? So Wayne wants to dip in the prepubescent pockets of Jan and Timmy and this is the way he does it? Dude needs to put the styrofoam cups and laced blunts down. ASAP. Trina is somewhere praising the gods Weezy dumped her ass because this crazy ish would turn a sista into a post-Bobby Whitney.  UPDATE:
Apparently this was all a satire
put on by the OC Weekly.  But how hilarious is it that 99% of the people wouldn't put a situation like this past that dude Weezy?  Ha.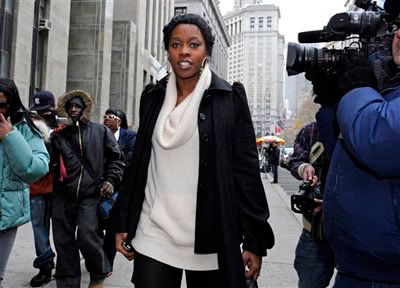 Remy leaving court last week
Remy Ma's
publicist sent over this statement in regards to that video that hit the net yesterday:
"The fraudulent video hoax that has surfaced of an alleged female lover of Remy Ma is completely false and representatives for Remy Ma emphatically deny these claims. The staged video and storyline, as well as the voice on the phone posing as Remy are all fictitious and have made it very obvious that this is a deliberate attempt to undermine Remy's name and character. Remy Ma has not nor has she ever been involved in a same sex relationship with the accuser or any other woman however Remy is respectful of those who choose the alternative lifestyle. Again, this video and claim are both 100% untrue and we hope that the involved accusers are aware of the civil liberties violated in the taping of this video."
Interesting. The Randomness:
Due to significant growth in traffic to TheYBF.com, I'm dealing with a few server issues.  Hence the downtime and slowness these past few days.  It is being dealt with and optimized as efficiently as possible.  Thanks for your patience!