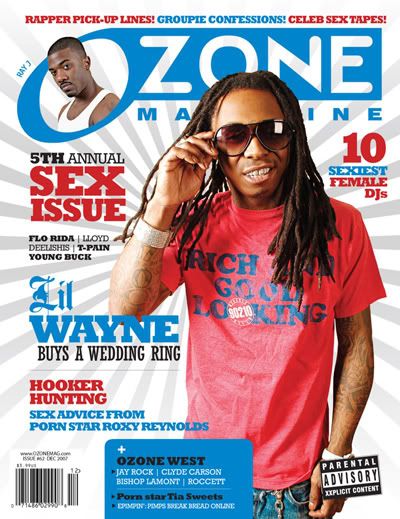 Weezy's
covering the upcoming issue of
Ozone
magazine.  And despite rumors that spun off from
this YBF exclusive
, he's not engaged yet.  And he isn't talking about being engaged right now in this issue either--despite what the cover says.   Wayne says in the issue:
"I'm getting married. I bought the ring already. I just don't know who I'm marrying yet. They don't like me cause I'm a workaholic."
Sounds like dude is just in the marrying state of mind. And my extremely reliable sources back home in the N.O. tell me he's definitely not engaged. Here's a few more exclusive quotes from the issue with Wayne discussing his possible new Flavor Flav style reality show:
What kind of reality shows have been pitched to you? All kinds. The most tempting one was that they wanted me to do one like Flav. Oooh, all them girls. I said I'd do it because that one has a funny catch to it. But I wouldn't do no realistic reality show about my life, viewing what I go through and how I handle problems and shit, nah. Is that gonna happen --- the Flavor of Love type show starring Lil Wayne? I ain't gonna lie, I ain't really into it. I'm trying to find a woman. I'm trying to get married by my birthday next year. I told my manager I want to be married around this time next year, and he was like, "Okay, but um, we kinda want the single image, man, because we wanna do this and that," and I'm like, "Tezz, boy, I'm not moving to no house with no 25 females. Are you crazy? What is wrong with you?" So you're really serious about getting married. Yeah, I'm making too much money right now. When you're single, you make money and you spend it crazy. We buy jets. We be on private planes going to watch basketball games, I swear to God. We be getting back on our jet and the Hornets are getting back on their jet. I'm like, this ain't cool. We ain't supposed to be doing this. We've got things to do. I'm supposed to be saving up for something, not ballin' out, not just being on the road bachelorette style. I've got four spots in Miami. That' don't even make no sense. Having a wife would calm you down? It wouldn't be about that. I'd be spending for a reason. Even if I wanted to buy land, it'd be our land. Mentally, I'm a very disciplined person, so I could just tell myself, "I'm not gonna do this no more." But then when I do something, I do it a lot. So I told myself, "Okay, we ain't buyin' cars no more." I ain't bought a car in like three months.
Make it stop. The issue hits stores December 11th. So
Bow Wow
hit up
The Tyra Banks Show
recently and they had some very interesting sex talk. Check it.
What in the Z-list hell? 
Ray-J
just won't let this ish go.  His new mixtape cover is a remix of his video sexcapades with
Kim K
.  And I really want it to stop.  Especially because they've been over for years.  Get a job Ray J.  The Randomness:
Vivica is avoiding getting booked for her DUI.
Djimon Hounsou is named the sexiest black man alive by Access Hollywood.   So Access Hollywood has enough blackness running that site/show to run an article like this?  I seriously doubt it.